John Lyon's Charity has made it to the Charity Film Awards FINALS
January 2023
With over 400 UK-based charities entering this year, John Lyon's Charity is delighted to announce that it has made it to the 6th annual Charity Film Awards Finals! A number of the Charity's groups have also made it to the finals this year, which will make the glitzy event all the more enjoyable.
Almost 40,000 votes were cast by the public in the first round, and it's now down to a panel of expert judges to select winners from each film category.  Aiming to change mindsets and raise awareness of the good causes behind the work they do, the judges are in for a tough time, with an exceptionally high level of competition as provided by the charities' films.
The Charity Film Awards has a panel of expert judges – which includes high-profile names from entertainment, business, media, academia, and social enterprises – who will be selecting the winners from each category, which is divided by charity turnover, film length and corporate cause.
The winners of the 2023 awards will be announced at a gala ceremony in central London on 21 March 2023.
Nicolas Loufrani, CEO of Smiley Movement, said: "Nothing captures hearts and minds like film. These amazing films from wonderful causes absolutely demonstrate the importance of film for charitable campaigning. It's vital we support all causes – big or small. A huge congratulations to all the Finalists, who should be delighted with the public support for their films through the campaign. We're incredibly proud that Smiley Movement's investment in the Charity Film Awards has already generated millions of additional views on these films."
John Lyon's Charity has its fingers crossed for all the finalists but especially its own groups. To find out more information on the Charity Film Awards, please click here.
---
Oh Yes they should. But Oh No they're not! John Lyon's Charity is concerned to learn that 42% of UK parents with children under 16 cannot afford to take them to a pantomime or theatre this year.
December 2022
John Lyon's Charity carried out a recent national survey and learned that 42% of parents with children under the age of 16 said they cannot afford to take their child to a pantomime/theatre this year. With the current Cost of Living crisis, coupled with the aftermath of the pandemic, it is unsurprising that families are steering away from the theatre after prices surged earlier this year by 20%. [1]
Can children go to the theatre? With John Lyon's Charity…. Oh yes they can!
JLC is determined to bridge this gap to not only ensure children and young people experience all types of theatre but to also take the financial pressure off those who need it. The Charity offers two Funds that can open doors for children and young people to access theatre and the arts all year round:
The School Holiday Activity Fund awards funding for trips to the theatre (and other exciting experiences) during the school holidays.
The Cultural Capital Fund specifically brings schools and Arts organisations together to enable children and young people to access high quality arts and cultural opportunities.
Over this festive period, John Lyon's Charity has funded multiple schools to take trips to the theatre to see a variety of West End productions, including A Christmas Carol, Frozen, The Lion the Witch and the Wardrobe and many more. Capital City Academy is one of the many schools that receives funding from JLC's Cultural Capital Fund and was recently awarded a grant for students to attend Snow White and the Seven Superheroes at the Millfield Theatre in Watford this December. Amira, aged 11 said: "I have never been to a theatre before and I am really excited to get to see Snow White and the Seven Superheroes".
Nakai, aged 11 said: "Even though some parents might not be able to pay to go to the theatre, it's great that kids can still go with their school and all their friends. I'm very excited!"
Sadiya, aged 11 said: "I think it's important to experience a pantomime because it's like you're there and it's your experience, not just something you've watched off a YouTube video or online."
Dr Lynne Guyton, CEO of John Lyon's Charity said: "Even before Covid-19, John Lyon's Charity was very much aware of the worrying trend away from Arts subjects in schools to focus on the more 'academic' core subjects. Even at primary level, where there is usually more flexibility on the curriculum, Arts activities are increasingly squeezed in favour of other subjects. We are delighted that our funding can bridge that gap and open doors for so many children to experience the beauty of theatre. Pantomimes and Christmas shows are much more relaxed and easier for young people to access, especially for those who have never been to the theatre before."
To find out more about John Lyon's Charity and its many funding opportunities, please click here.
Research: Insight conducted by market research company Opinion Matters between the dates 28.09.2022 – 30.09.2022. The research surveyed a sample of 2008 UK adults.
[1] The Stage ticketing survey 2022: top prices surge 20% from pre-pandemic levels
---
John Lyon's Charity has ring-fenced £1m to help alleviate the impact of the Cost of Living crisis amongst current grant holders with a turnover of less than £1m
December 2022
"We are currently severely impacted by the Cost of Living crisis. The families of our beneficiaries -autistic children and young people are struggling with increased anxieties, resulting in increased social exclusion as a direct result of the crisis." – Flute Theatre
"We have noted that many of the children seem hungrier and we have increased the amount of food we serve by approximately 45%." – Shepherds Bush Families Project
"The children we support are often in complex situations. They have cancer. A parent can't afford general living let alone specialist hats and scalp care items for hair loss." – Cancer Hair Care
Grant-giving Funder John Lyon's Charity has been inundated with shocking statements from grassroots charities as a result of the Cost of Living crisis. As a response, £1m has been ring-fenced from the Charity to help keep these vital organisations afloat.
Over 100 London charities have voiced their concerns to grant-giving Funder John Lyon's Charity, about the harsh realities that the Cost of Living crisis is having on their organisations. With food, energy and fuel bills rapidly rising, more people are relying on the services of charities, following the already heightened demand during the Covid-19 pandemic. However, like the wider population, charities are also facing challenges with their own spiralling costs and coupled with the increased demand for their services; and are having to do more to support their communities but with fewer financial resources.
Michelle Bailey, Managing Director at E.A.S.E (Empowering Action and Social Esteem) Ltd said: "Our core running costs have increased dramatically (34% to date) and we are using unrestricted reserves to make up for the shortfall. The complexities that children and young people face have also increased due to family distress and therefore demand for services is increasing. They have not recovered from the impact of COVID. We are delivering increased sessions on mental health and wellbeing."
Charlie Rigby, CEO of The Violence Intervention Project said: "The majority of our clients and their families are vulnerable and living in deprived communities which will be hit hardest by the Cost of Living. Increasingly, we're being asked by desperate parents for help with food, and essentials, particularly nappies, and many are very worried about how they're going to manage their energy bills over the winter. This has an obvious impact on the health and wellbeing of the whole family, and also increases the likelihood of our clients resorting to involvement in crime."
In an attempt to support these crucial grassroots organisations, John Lyon's Charity has ring-fenced £1m to help alleviate the impact of the Cost of Living crisis amongst current grant holders with a turnover of less than £1m. Lynne Guyton, CEO of John Lyon's Charity said: "We know we can't solve the current Cost of Living crisis but equally we will never sit back and just do nothing. Our mantra is to walk alongside our groups and do everything we can to support them, especially in a time of great need. The Cost of Living crisis is no different, therefore the only choice we have is to respond. We hope the Cost of Living uplift grant will make a difference to our groups, so that they can continue to provide their vital services."
Eligible organisations will be contacted by John Lyon's Charity with details on how to claim the Cost of Living Uplift grant. Alternatively, if you would like to find out more about the Charity and its many funding opportunities, please click here.
---
We celebrated the return of our Volunteer Film Screening in partnership with Media Trust
November 2022
After a two-year hiatus, we were finally able to come together once again to celebrate the Charity's Volunteer Film Initiative in partnership with Media Trust at the Ham Yard Hotel. Over the last five years, Media Trust's Volunteer Films initiative has matched film-makers from Media Trust's network with 60 organisations supported by John Lyon's Charity to create a three-minute film for each charity. This year, Media Trust volunteer directors have made short films for eight shortlisted JLC grantees that powerfully bring their work to life and give a voice to the communities and individuals they serve. The event included charities and directors involved in the making of the films as well as Funders and experts from across the Sector. Off the back of this initiative over the past five years, many have gone on to win Best Charity Film Awards. Congratulations to all involved. Watch this space!
---
John Lyon's Charity joins forces with other funders across sectors to launch a new funding initiative, Propel
October 2022
London Funders have been working with John Lyon's Charity and many other funders to develop a collaborative funding programme, offering grants to civil society groups in London.
This new initiative – called Propel – is about giving the capital's civil society and communities the flexibility and capacity to explore, develop and lead collaborative ways of tackling some of London's biggest challenges.
We're delighted to be one of the participating Propel funders and part of building a platform where we can act collectively, drawing on the relationships and assets we all bring to the partnership. We share the ambition of developing bold, innovative and creative programmes, sharing risks together to learn, unlearn and achieve more than the sum of our parts. To find out more about this new initiative, please click here.
---
Her Majesty, The Queen.
September 2022
---
Cuddly charity mascot, John the Lyon, is a ROARING success with children and young people this summer. He's currently touring North and West London to bring 'ROARsome' summer fun to underfunded communities during the holidays!
August 2022
All children should have the opportunity to enjoy their summer holidays, whether it's a trip to the beach, sports activities, camping or other exciting visits out of London. However, not all children are able to experience these types of opportunities.
To bridge this gap, grant-giving Funder, John Lyon's Charity, offers a School Holiday Activity Fund so that all children and young people can experience these opportunities. John Lyon's Charity gives grants to benefit children and young people up to the age of 25 who live in nine boroughs in North and West London. The School Holiday Activity Fund is designed to enable organisations to deliver fun and accessible activities for children and young people during the school holidays, including all half-term breaks, Easter, Christmas and the summer holiday.
To remind many children's groups of this important funding opportunity, the Charity has sent its popular mascot John the Lyon on a special "safari tour" to surprise children and young people who benefit from the Fund.
In the past, this Fund has enabled trips to the beach, to theme parks and to theatres and many other exciting adventures, most of which many children and young people have never had the opportunity to experience before.
Stonegrove Estates Youth Project (SEYP) had a visit from John the Lyon earlier this month after receiving a School Holiday Activity Fund from John Lyon's Charity. Samantha Scott, Youth Director at SEYP said: "It was great fun welcoming John the Lyon to Stonegrove Estates Youth Project summer activities and great for him to judge our Master Chef finals. The beneficiaries respected his decision, after all who's going to argue with a lyon! Without funding from charities such as John Lyon's Charity, children and families would struggle and experience even more financial hardship particularly at a time when they should be enjoying themselves during the summer break. Charitable funding supports the delivery of sociable learning activities in a safe environment, which in turn supports improved mental health for children, young people and their parents. We couldn't be more grateful to John Lyon's Charity."
Julie Cavanagh, Manager at Sands End Adventure Playground (SEAPIA) said: "The School Holiday Activity Fund from John Lyon's Charity has made a huge difference to the project we deliver. It enables us to accommodate more young people, provide positive experiences, meaningful activities, and offer hot healthy meals. Our children and young people were so excited that John the Lyon came to visit, what a lovely experience for them. To see the joy on their young faces makes us all realise how essential it is to provide a safe place to play. All I have heard since is "when is John the Lyon flying back to see us?"
John Lyon's Charity has distributed over £171 million in grants to a range of organisations across North and West London that seek to promote the life-chances of children and young people through education. If you would like to find out more about John Lyon's Charity and its School Holiday Activity Fund, please click here.
---
The Mozartists – A Success Story
July 2022
"All I insist on, and nothing else, is that you should show the whole world that you are not afraid. Be silent, if you choose; but when it is necessary, speak and speak in such a way that people will remember it." — Wolfgang Amadeus Mozart
Since Covid-19, schools have been working overtime to help their children catch up on the core academic subjects, with many having to put access to Arts subjects lower down on their agendas. As a result, there are significant numbers of children who are not accessing any Arts activities at school or being exposed to them through afterschool activities or through their families.  This risks a generation of children who have no 'Cultural Capital'.
JLC's Cultural Capital Fund was formed as part of its Home-School-Community initiative to seek to ensure children and young people can access the Arts. One Arts organisation which secured a Cultural Capital Fund grant is the The Mozartists.
The Mozartists is a leading musical organisation comprised of professional performers and practitioners who specialise in the works of Mozart. The Mozartists have a worldwide reputation for their fresh and dynamic performances of 18th-century repertoire. Performing on period instruments, or modern replicas, and working with an in-depth knowledge of 18th-century performance practice, these masterful musicians bring the music of Mozart and his contemporaries to vivid and dramatic life. In 2015 the Mozartists established MOZART 250 – a 27 year chronological project looking back 250 years to follow Mozart's life, works and musical influences.
With support from John Lyon's Charity, this inspiring classical organisation wanted to bring live classical music to children who might not otherwise have the chance to experience it – and the Mozart 250 Discovery Project was born. School children learn about the childhood Mozart and his music, as well as what life was like in the eighteenth century, and working with The Mozartists' animateurs and players, devise and perform their own music. Guided by this experienced team of workshop leaders, singers and instrumentalists, children explore the young composer's world and music and follow in his footsteps to create their own operas, which are showcased in a final performance to their peers, families and communities.
Starting with two class groups in 2015, this project has expanded over the years, and off the back of its grant from the Cultural Capital Fund, The Mozartists worked with over 1200 children across Ealing last year. The project was expanded to incorporate primary and secondary schools, with the MOZART 250 Discovery Project at the core, with additional 'drop-in' singing workshops for primary schools, 'Introduction to Opera' workshops for secondary schools, and a new range of workshops devised specifically for special needs settings, all inspiring children through Mozart's composed music.
Yogesh Dattani, Head of Ealing Music Partnership, said: "The opera project delivered by The Mozartists and funded by the Cultural Capital Fund has been a catalyst to accessing pupils with SEND in four mainstream primaries. Opera is out of reach for many of our families, but with John Lyon's Charity's support, we have taken opera to our pupils – another significant milestone in our journey of inclusion!"
Joe Cummings, a workshop leader at The Mozartists, said: "The projects allows children the chance to engage, communicate and express themselves through multi art forms (music, dance, theatre, co-creativity). This medium often enables children to engage on a much deeper emotional level than with words/speech."
For many of the children, these workshops are their first encounter with live classical music and a unique opportunity to experience singers and instruments up close. Throughout the intensive weekly workshops, the children grow in confidence and develop important creative and team-working skills that will help them thrive on and off stage.  Here is what a few of the students from Stanhope Primary School had to say:
"It was pretty amazing and the Mozart people are astonishing and very helpful"
"I am really grateful for everything they did. When I performed my solo, I felt a bit nervous at first, but it was such a confidence boost."
"It's really inspiring and I hope that other kids will be inspired by Mozart too."
The Mozartists are committed to continuing to deliver a range of projects to cater for a wide range of school children in Ealing. John Lyon's Charity is keen to encourage other arts organisations who operate within North and West London to come forward and utilise the Charity's Cultural Capital Fund offering. JLC hopes to see more inspiring organisation's such as The Mozartists in schools so that children and young people can experience a wide range of arts opportunities.
If you are an Arts Organisation and would like to find out more about the Cultural Capital Fund: Arts Organisation, then please click here.
We also offer a Cultural Capital Fund: schools grant for schools that operate within the Charity's Beneficial Area. To find out more, please click here.
---
Five years on from the Grenfell Tower tragedy, John Lyon's Charity continues to help local people and communities in North Kensington affected by the fire to recover.
June 2022
The impact of the fire at Grenfell Tower is still being felt throughout North Kensington and will continue to affect residents for many years to come. John Lyon's Charity (JLC) – a London based grant-giving Funder who stepped in immediately after the tragic event five years ago is actively seeking new ways to fund Children and Young People's organisations, and has invested £4.4m since 2017 into the borough to help support the community.
In the first days and weeks following the fire, JLC worked closely with other funding organisations and London Funders to create an emergency response strategy to support the communities living in the area that had been affected. In July 2017, over £1.1m was distributed to 100 local community groups, faith groups, schools and residents associations for extra equipment, food and essential supplies to support the local communities.
Dr. Lynne Guyton, CEO of John Lyon's Charity said: "As one of the biggest grant-giving Funders in London, we knew we had to step up and do all we could to protect this much-loved community, which is based in the heart of our Beneficial Area. Now, five years later, we are still doing all we can to help and want to remind organisations that operate in and around the area that we are committed to investing in the borough long term."
Traditionally, Kensington & Chelsea as a local authority area, is often overlooked for funding and support from outside agencies. Parts of the borough are the most affluent in the country, if not in Europe. However, in pockets such as North Kensington, levels of deprivation and need are incredibly high. John Lyon's Charity has remained focused in supporting the survival of key charities in the borough and funded 166 organisations since June 2017 but much more needs to be done.
Urbanwise.London, a local educational charity received emergency funding from JLC to provide trips for families from the area. Moya O'Hara – Director of Urbanwise.London said: "Following the Grenfell Tower tragedy, the local community were in shock and grief. Many had lost loved ones and neighbours and they experienced mental trauma and health issues for a long time afterwards. The emergency funding enabled local groups to offer support to the community through a variety of different projects, very quickly and flexibly. However, local people are still affected by the tragedy today. Some moved away but many are still living in the same area under the shadow of Grenfell Tower and the memories of what happened here."
Another charity that received emergency funding from JLC was London Sports Trust, an organisation that inspires positive change for disadvantaged young Londoners through sport. Ulick Tarabanov, CEO of London Sports Trust said: "Trauma is usually hidden, but with the Grenfell Tower tragedy in view every day, it still remains at the forefront of resident's minds. The London Sports Trust supported children and families who lived in Grenfell over the last 20 years, so it was heart breaking to see some of those amazing young people perish in tragedy. The emergency funding from John Lyon's Charity enabled us to provide additional support and sessions specifically for children and families affected by the tragedy, giving them a safe space to take part in activities or just be together. We continue to run sports and outdoor adventure activities as well as family baking programmes for families around North Kensington affected by the Grenfell Tower Tragedy."
Tina Mayers, CEO of Shepherds Bush Families Project & Children's Centre said: "We had one family from the North African community who was greatly affected by the fire. They had relatives living in Grenfell and sadly the whole family perished. Other families had relatives and friends who were admitted to hospital, one on life support for many weeks, and who came to our centre to express grief and concern. We still see the effects of the Grenfell Tragedy on families' emotional wellbeing and we support families with childcare whilst parents attend counselling/therapy groups away from the project. We have seen many different communities come together to support each other over the last five years and many come to our centre to seek solace and be with friends and family. We are grateful to Funders like John Lyon's Charity but more needs to be done to help this community heal."
Five years on the impact of the fire still sends shockwaves across London with the community of North Kensington losing many family members and friends. Despite JLC's continued funding commitment the area still needs significant support and investment. John Lyon's Charity is using its platform to remind local organisations that it is committed long term to support the borough and urges the Government to step up and do more.
JLC also operates in Barnet, Brent, Camden, Ealing, Hammersmith and Fulham, Harrow and the Cities of London and Westminster. To find out more about the Charity please visit our Grants page.
---
Major London Funder of Children & Young People has committed an additional £4M across the sector in just one year to help tackle the impact of Covid-19 on top of its usual grant giving of C.£12M
March 2022
One year ago today, grant-giving funder John Lyon's Charity ring-fenced an additional £22million from its endowment to be spent over the next six years to help protect the Children and Young People's (CYP) sector survive the Covid-19 crisis. This was in addition to its usual grant-giving of c.£10-12M.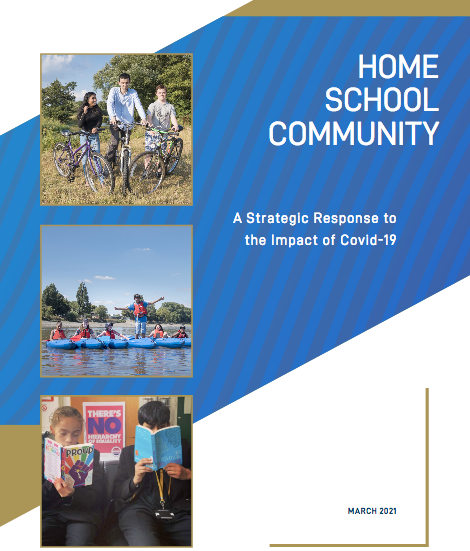 Now, just one year on, the Charity can confirm that it has already committed £4million to grassroots charities across London.
A strategic plan to protect the CYP sector in the long term was created and launched in March 2021, with the core focus on Home – School – Community (HSC); the three main points of reference in any child's life.
Dr Lynne Guyton, CEO of John Lyon's Charity says: "The Charity has spent the last thirty years contributing to the maintenance and effectiveness of a varied and vibrant CYP sector in London. Therefore, we could not sit by and watch the pandemic threaten and destroy the many vital organisations we have supported over the years. Just one year on from our HSC launch, we are already seeing the positive effects on many grassroots charities and organisations who have benefitted from this funding strategy. Our groups are starting to rebuild all that was lost during the pandemic but there is no denying that these organisations will need support for the foreseeable."
Catholic Children's Society (CCS), a charity that supports disadvantaged children and families was awarded funding from the HSC strategy. Greg Brister, Trust & Grants Officer at CCS says: "JLC's Home-School-Community Strategy has been hugely important in helping the Catholic Children's Society respond effectively to the devastating impact of the pandemic. JLC's grant enabled us to significantly scale up our efforts to provide specialist support for children struggling with mental health issues. We have now launched our Connect-Ed therapy service in eight new schools, providing vital early intervention support for children who have experienced many challenges as a result of Covid-19 (including isolation, bereavement and family breakdown). This work has had a profound impact, helping vulnerable children develop greater resilience and putting them in a much stronger position to engage with school life and achieve their full potential. We are very grateful to John Lyon's Charity for their fast response and ongoing support."
British chamber orchestra, Aurora Orchestra, is another vital organisation that has benefitted from HSC's funding. Helen McKeown from Aurora Orchestra says: "Before the pandemic, Aurora Orchestra ran a series of immersive storytelling concerts for Camden primary school children at Kings Place, and visited two special schools in Westminster with adapted, child-led, versions of the performances. These activities became impossible during the national lockdown. This funding has helped us to deepen the impact of the live shows and resources further than ever before.Following the disruption of lockdown to all aspects of children's education, there has never been a more important time for this programme, which has enabled children to imagine, create and play through music over an extended period."
Lydia Gandaa, art teacher at Old Oak Primary School says: "The opportunities the children from Old Oak have gained from the school having access to JLC's Cultural Capital Fund within HSC are countless. Being able to partner with such a well-known arts institution such as the Saatchi Gallery would have been largely unachievable if Old Oak had not been part of this important project. This project allowed for our students to really build their cultural capital particularly following the pandemic as they are not often exposed to experiences such as this on a day to day basis. We are grateful that after such a difficult period, this type of funding from John Lyon's Charity was made available"
Now with £4M already committed one year on, John Lyon's Charity is on track to continue its support of the CYP sector with the end goal that it fully survives the impact of the pandemic.